In 2015 I saw a 750 1971 Norton Commando for sale on Craigslist near me. The asking price was $1200. I had just finished my Norton Commando MK3 rebuild, so I wasn't really ready to do another extensive rebuild. I decided to offer $800 for the bike and it was accepted.  The plan was to get it running as cheaply as possible and ride it about. It had been a long time since I rode a 750. The last time was when I owned a Combat in England, back in the 80's sometime.
The bike was missing quite a few frame parts. Gearbox cover was missing, but engine mainly intact. The fuel tank and panels were missing. Here are some photos of how the bike looked when I purchased it.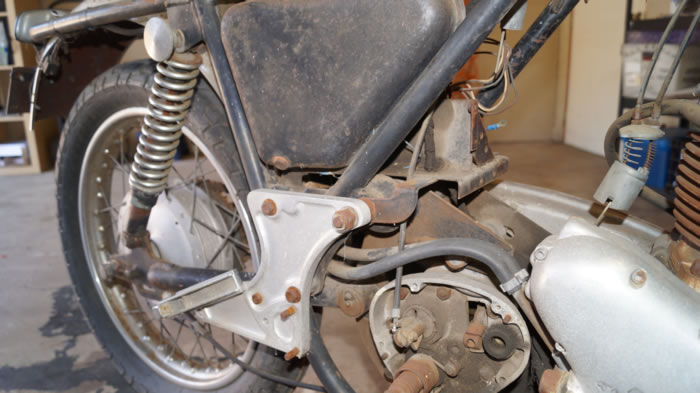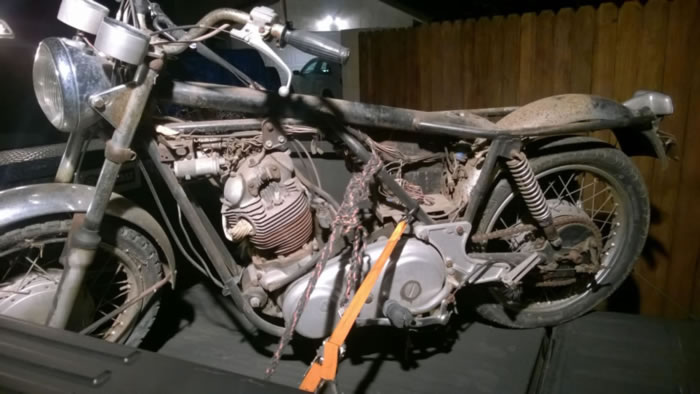 There is a rebuild thread about my project at www.accessnorton.com as well as this page.
As I stripped the bike down I found some major issues as well as the fact parts were missing.
Rear frame tube was bent and someone had welded in some conduit pipe.
Frame mount was broken. (I had a spare frame luckily)
Crankcase ally bolt supports were broken.
There were many other issues, of course! I soon realized I had to do this rebuild right, whatever it took. The rebuild took just over a year. Everything turned out very well, but it was a lot more work and $$ than anticipated. To read the complete details look at the forum thread here www.accessnorton.com
I wanted to mention a few here who have helped me get this bike how I wanted it and why:
Colorado Norton Works
A big thanks to Matt at cNw. As always cNw provided excellent parts for the bike including:
Complete Brembo Front Brake
Exhausts
Upgraded Oil Tank
Handlebars
Tri-spark
And services from cNw included:
Repair of crankcase
Crankcase Breather Modification
Gearbox shell upgrade (oil seal)
Putting up with me on the phone
Jim Comstock
Jim repaired my cylinder head broken fin. He put 1.5 mm oversize valves in the head, flowed it and did his tricks. He provided a webcam 12A and he radiused the cam followers for me. (I added light weight pushrods from Kibblewhite too).
The bike performs extremely well and I know its mainly because of what Jim did. Thanks Jim.
Brent Budgor / Vintage Vendor
Brent has painted a few Nortons for me. As usual I am very impressed. Thanks Brent. I am going to write a blog about the quality of Brent's work, look out for it.
There are others to thank and the list goes on a long way for what I did to get this bike how I wanted it.
---
I have about 3000 miles on it now and I could not be happier. The bike is fast, sounds good, handles well and lots of fun.
There is a slide show that includes some great photos of the completed bike.