By Tom Butt (member name ctsbc)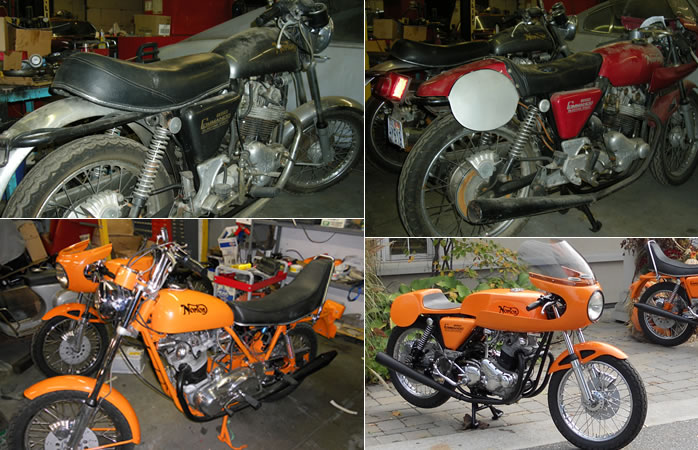 During the six years restoring my 1968 Jaguar E-Type OTS, I established a good relationship with John Watts of LNER In Newmarket Ontario Canada. When he found out I had two MK 111 Norton Commandos in my barn-stored for the last 15 years-he said in the Fall of 2010 " bring them in and we will restore them this winter". Given that John is a Master Mechanic with 50 years of maintenance/restoration of British vehicles, I jumped at the chance and committed most afternoons from January 2011 to the late Fall of this year to restore these bikes.
My goal was to bring them to a solid, safe and rideable condition, allowing the next owners to introduce major upgrades. We agreed that all rubber, as well as all bearings except the superblends, needed to be replaced. Bushings, value and guides, piston gudgeon pins, rocker pins etc. were evaluated by John and replaced as necessary. Camshaft and followers were replaced on both bikes. Head and barrel joining surfaces were machined and valves seated by a local motorcycle racing shop.
Frames and other metal bits were sandblasted and painted. Cases, gearboxes and fork yokes were bead blasted and painted/treated with hi-temp silver paint. The head was the only piece that did not get treated- except by brass brush- following cleaning.
All other aluminum pieces were sanded four times-180, 400, 800, w/d 1200 grit-and then polished.

One set of rims were chromed and the other replaced with new rims. New s.s. spokes with chrome nipples and new Dunlop types finished each wheel.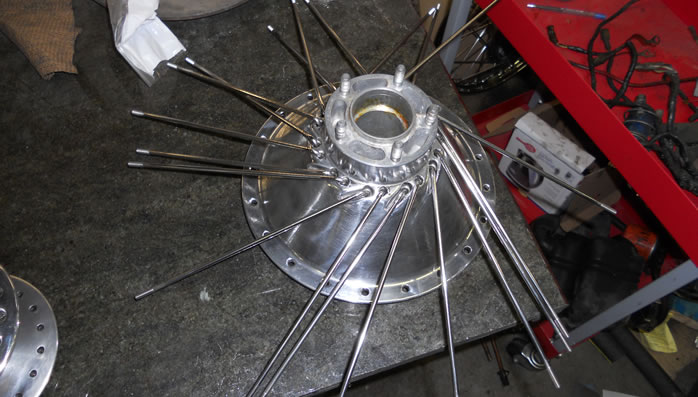 Brake discs were finished and drilled and s.s. lines and s.s. pistons replaced the originals. Of course all master cylinder inners and calliper seals were replaced following our commitment to replacing rubber throughout this project.
Oil and gas lines were replaced with s.s. lines. All s.s. lines were made in our shop with Venhill ends and various sources supplied the s.s. braided lines.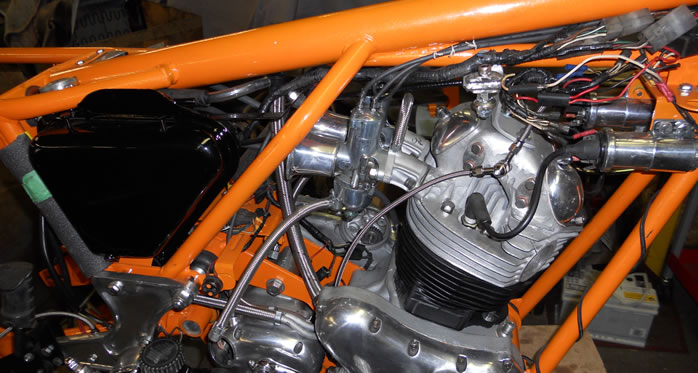 A small fortune was spent on rechroming-enough said. 
All the pretty painted bits were hand sanded with 1500 and 2000 grit, followed by two levels of machine polishing before waxing. I was bored with the black Norton and given the outlier nature of the High Rider model, I decided on the bling apporach using a pearl chrome orange paint. The cafe racer benefited from the same paint, but was spaced the indignity of a coloured frame.
We missed the riding season here in Ontario Canada, so the next several months will be fine tuning our work e.g. brakes, alignment and mostly electrics—specifically turn signals, dash board and brake lights in preparation for Spring of 2012.
This project would have been impossible without John, his team, his tool chest and his 50 years of experience.  Clearly, your forum was also a major source of knowledge which we debated the merits of each point many times before making our final decision.
Tom Butt
Back