By Daniel Lucas (member name westernjesus)

My name is Dan and this is my first Norton. I'm still a young guy, I just had a birthday last week and let's just say I'm closer to 30 than I am 40. We can leave it at that. I was lucky to be able to grow up around old motorcycles and old cars, and caught the bug early. Technically my first car was a $500 beater that my dad conned me into buying (I wanted a 56 ford for $2k but he wouldn't front me the rest of the cash) But the first chance I got, first year out of high school I saved up and bought a hot rodded 65 rambler. Yes, I said amc rambler. I still have it, and have hot rodded it even more.
I never understood why my friends coveted ninjas or rice burner civics. All I wanted was an old triumph like my dads and a big block v8. My dad laid down his 72 bonne when I was about 5 or 6 and it sat around in disrepair until I was in my late teens. The old man said if I fixed it up, I could have it. I worked on it for a while and that was my first bike. I still have that too, I will never part with it. It was my dad's first bike, it was my first bike, if I have a son it will be his first bike.
Since that 72 bonne, I have owned or still own, a newer Enfield bullet (1999, after the 3rd rebuild I sold it for a ham sandwich), a 53 Zundapp, a 53 Zundapp, and a 62 BSA. I have never owned a bike with electric start. There is over 100k on the till of that Bonneville. I just love old bikes. Besides the Enfield technically being a 99, I have never owned a motorcycle that wasn't older than I am.
It was 2 years ago that I heard about a guy out in the boonies that had some old motorcycles sitting along the side of the road. My great aunt told me about the bikes, but she didn't know what type they were, just that they were old and that I loved old bikes. I got an address and went driving around, and found the guy. The bikes were some mid 70s jap bikes, save for one sweet black bomber, and I thought I would check in with the guy to see if he had anything else. Turns out the guy had more than two barns full of old bikes, mostly jap, mostly late 60s thru early 80s. Over 100 bikes in various disrepair sitting out visible. Inquired if he had anything unusual, anything British, anything not jap. The old man said he had a Norton that he dug up, and a Jawa, but he had two trailers full of bikes he hadn't even gone thru yet.
The first attached photo is a pic I took where I found it, leaning up against a wall with nearly 30 years of dust on it.
I had heard about Norton, heard all the stories from my dad growing up. Isle of Man. King of the Brit bikes. I had to have it. After some haggling I bought the Norton for $850. It was mostly complete, but the motor was locked up and the transmission was in a box. The inspection sticker on it said 1983, so that was when it had been set aside and even after 26 years the old man said he had an idea where the key was, and found it! But he couldn't find the title. I called my Dad and he came up to help me get it home, and he bought the Jawa. My dad was so Jealous.
I was living in an apartment building at the time, so down to my parents garage it went. I kept the 72 Bonne chained to the stairs at my apartment, it was my everyday ride. But I doubt my landlord would want me having two bikes there, especially one that was not running. I actually asked him if it would be OK if I disassembled it and brought it into my apartment to work on it. He didn't take too kindly to that!
I didn't have any money and I didn't have a garage. So I bought parts when I could and worked on it when I visited the parents, who live about 1.5 hrs south. I had a vision of what I wanted to do with the Norton. I wanted to build a vintage looking cafe bike. My dad begged me to keep it stock, but I would have none of it. However, I did save every stock part from it and made no major modifications to the chasis, so I can put it back to stock when my back gives out.
First was the motor and tranny though. I have rebuilt motors before, 3 times on that enfield, twice on the Triumph, once on a Zundapp. Once torn down, the bottom end looked good, the jugs were roached though. A hack job rebuild must have been done before, it was already .020 over and the skirt down at the bottom of the jug that since into the cases was cracked and a piece missing. Welded it up and had a machine shop tend to it. New pistons, rings, and obviously a complete top end. High compression pistons with forges valves. Unfortunately in the end I found out that the punch must not have been done properly, because I had to punch it again and throw another set of pistons and rings at it.
Tranny was already in a box, so that was easy enough to inspect and tend to. Cleaned it up, new bearing and seals etc, and she went right back together (with the help of an exploded diagram found on AccessNorton).
I didn't go crazy with the motor build, not just because money has been short, but because this Norton is going to be my everyday ride for a while. I wanted it to have a little something above stock, but also be reliable and rideable. My Bonne had clicked over 100k and the bottom end was never done, so I need a bike to ride and stop riding the Triumph. The trumpet was getting tired and finicky and solicited quite a few swear words from me.
I didn't bother to powder coat the frame or anything. This was going to be a rider. I cleaned it up real good, sanded what needed to be sanded and spray can painted it black.
I found two stock NOS fenders, still wrapped in paper with the nice green globe labels for a whopping $200 for both. Rebuilt the front end, or at least took it apart, flushed it out, new seals and put gaitors on it for that proper look. The head light is the stock pancake light off my Triumph, because I put a 50s headlight on the Bonne. Cafe bars from ebay, aluminum headlight brackets from ebay.
Second picture is the Norton in my Dads garage, when I was feebly attempting to make my own seat.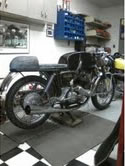 I found a guy down in FL that was making cafe tanks and scored the tank you see in the picture. I made an attempt to make my own seat. After the third attempt, I went fishing online. When I saw the Norvil seat, I had to have it. I found a guy in TX that was selling some Norvil parts that he intended to use on a cafe build, but decided to go a different direction. Picked up the seat for a steal. Something $150 or $200, completely new and unused. I had to contact Norvil in the UK for the proper mounting hardware, and while I was at it, bought a real set of Norvil rear sets. Unfortunately, in the tank, seat and rear sets, I have more money invested than I paid for the bike. I thought about splurging for the Norvil taillight but a little work with an angle grinder and patience, and I made my own.
Next picture is my younger brother Jacob sitting on the Norton after the Norvil seat came in. That is his BSA in the background. We all have the bug, besides my youngest brother, Aaron, he bought a ninja this year. Yuck. Bust he also has a BSA thumper that I don't think he will ever finish.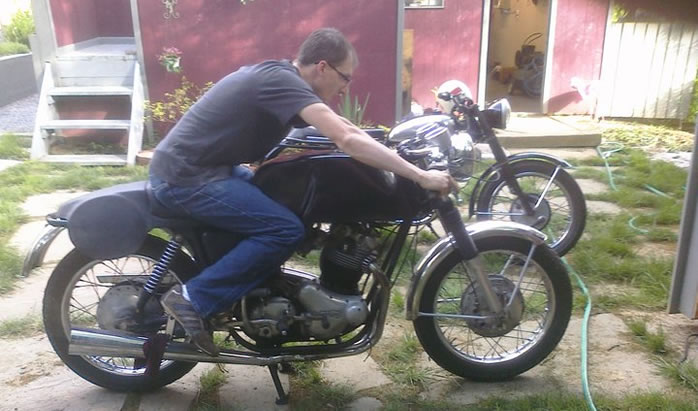 Lots of little odds and ends here and there I picked up or made. Nice braided oil lines. Norvil clear fuel lines. New oil pump. Breather tube. Made my own wiring harness. Electric ignition. Coils. Made my own plug wires. Lots of smalls here and there. If I found a nicer nut or bolt cheap, I would put the old rusty one in a box and put a new one on. Thankfully, I was able to buy a house this year with a 2 car garage. My first house. My first garage.
Next photo is a picture of my garage, shortly after paint and getting close to being done. See the Rambler? Ha! I've started work on that too.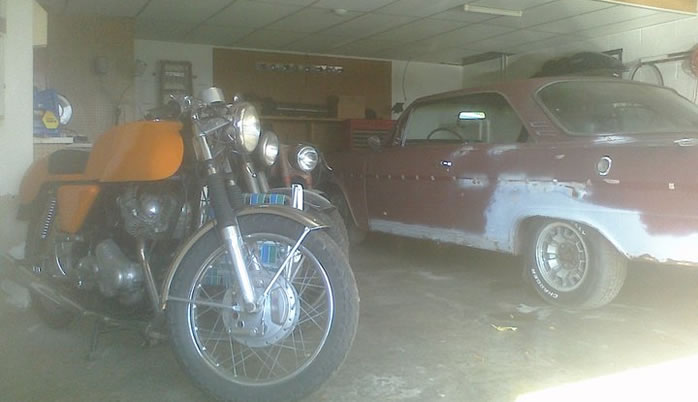 So here we are. My first Norton. A 71 Commando with a mild bump up from an otherwise stock motor, painted Signal Orange, the Union Jack on the number plate along with 59 to designate 1959, the year Norton dominated Isle of Man & the 59rs, Mods vs Rockers.
Next photo is the finished bike. 2 years in the making. And just the way I want it.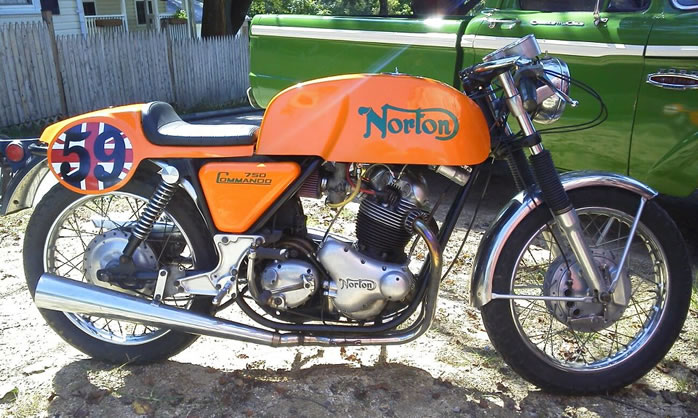 Sure, the kick lever broke so I just welded it.
No, the motor isn't polished, it is just going to leak oil anyway.
Sorry, I haven't been able to set aside money for real clip-ons quite yet, that will be next year.
This is my everyday machine. To prove that point, the last photo is of the bike taken on my birthday, Dec 14th. Yes, I live in PA, yes it was in the 40s, and yes I went for a ride. Wouldn't you know the side stand broke and I couldn't kick start it without the stand, which is why it was leaning against a tree. I welded it this past Saturday, then went for a ride. It snowed this Saturday by the way.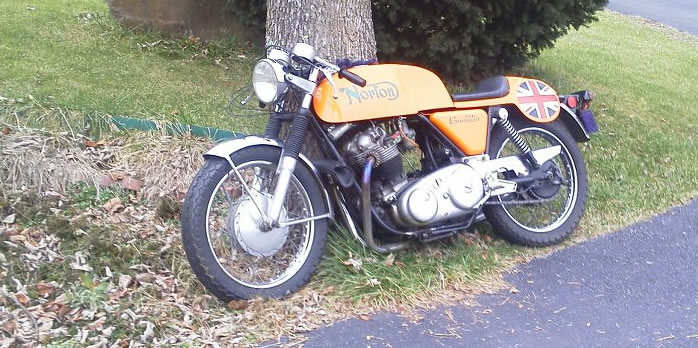 Back